Black Kids
Brudenell Social Club, Leeds.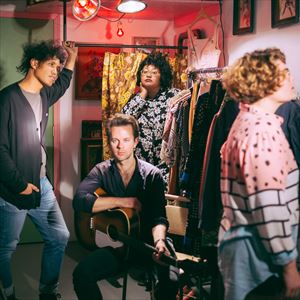 14+ only. 14s to 15s must be accompanied by an adult. No refunds will be given for incorrectly booked tickets.
More information about Black Kids tickets
What took Black Kids nine years to release their second album? Put the question to frontman Reggie Youngblood, and he invokes ... Homer, obviously.

"Much like Odysseus and Co., on our journey to make the 'difficult second album,' shit got rough," Youngblood says. "A few of us heeded the siren call of 'side projects.' Tumultuous relationships and periods of Imposter Syndrome also impeded progress.

"Worst of all, I couldn't write a chorus," Youngblood continues. "And for a band that worships The Chorus, this was problematic."

Well, the choruses eventually came, and the result is Rookie. Like the band's 2008 debut, Partie Traumatic, the album is a pastiche of the pop of previous decades. You hear the exuberant synth pop, Britpop, and indie rock of the first album, but what else is that in there? Daft Punk? Some Cocteaus? Fleetwood Mac?

"[The track] 'IFFY' sounds like bloody Carly Rae Jepsen," says one anonymous listener. "And I think they'd just had a listen to their old Ace of Base cassettes when they sat down to write 'All The Emotions.' Fucking hell, Black Kids -- I still can't tell whether they're having a laugh."

Says Youngblood, "We still genre-hop, we still make grotesque, saccharine hybrids. We're still beholden, religiously, to the form and structure of The Pop Song."

It was that pop devotion that originally propelled the Jacksonville, Florida-born band to music-press stardom, including receiving Pitchfork's Best New Music for their 2007 Wizard of Ahhhs EP. The next year saw the Columbia Records release of Partie Traumatic (which broke the Top 5 in the U.K.) and its attendant world tours, festival performances, and late-night-TV appearances. Lead single "I'm Not Gonna Teach Your Boyfriend How To Dance With You" soundtracked everything from sweaty club nights to blockbuster movies. And you still hear it out.

After touring exhaustively in support of Partie Traumatic, Youngblood and his bandmates -- bassist Owen Cohen and keyboardists/vocalists Ali Youngblood and Dawn Watley -- resettled around the U.S., in Brooklyn, Portland, and Athens, Georgia. Reggie started a power-pop group called Blunt Bangs. Owen released records on Kill Rock Stars under the moniker Gospel Music. Ali and Dawn sang and played and crafted. In late 2015, the four convened in Athens to make Rookie. The album was recorded and coproduced by Andy LeMaster at Chase Park Transduction.

Rookie is more lyrically earnest than its predecessor, and Youngblood notes that the "bratty-ness" is toned down -- "but just a lil' bit," he says. "Yeah, the themes from our debut are still firmly in place on our sophomore: I love you, but you don't love me; you love me, but I don't love you; you're mean, I'm mean -- shall we dance?"

Ugh, FINE.