Blonde Redhead
Brudenell Social Club, Leeds.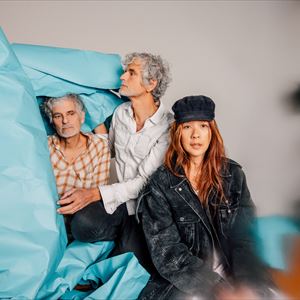 14+ only. 14s to 17s must be accompanied by an adult. No refunds will be given for incorrectly booked tickets.
More information about Blonde Redhead tickets
Blonde Redhead
- Sit Down for Dinner
Out 9/29
"Life changes fast," Joan Didion once wrote. "Life changes in the instant. You sit down to dinner and life
as you know it ends."
In the spring of 2020, Blonde Redhead singer and multi-instrumentalist Kazu Makino encountered this
passage from Didion's 2005 memoir of grief, The Year of Magical Thinking, in which the author reflected
on the devastating experience of witnessing her husband's sudden death at the dinner table. Amid the
profound uncertainty of those early pandemic months, Makino was thinking of her own parents far away
in Japan; the then-lost ritual of congregating for dinner with family; and the heavy, omnipresent feeling
that life could change in the instant for any of us.
With plainspoken language and incandescent melodies, Makino narrated these feelings on a pair of songs,
"Sit Down for Dinner Pt I" and "Sit Down for Dinner Pt II," which helped title the tenth full-length from
Blonde Redhead. "Sit Down to Dinner Pt II" thematically transcends time: "It's sort of about death, but
the music is so alive and groovy," Makino says. Yet, the title Sit Down for Dinner has a separate
resonance for the Italian members of Blonde Redhead, the Milan-born twin brothers Amedeo Pace (singer
/ multi-instrumentalist) and Simone Pace (drummer). "Culturally, dinner is important to us," Simone says
of the nonnegotiable family ritual. "It's a moment for us to sit down and have time with each other. We
grew up that way. I know a lot of people eat and run, eat in front of their TV, or don't care about it too
much—and that's OK—but we really do." Dinner has long been a sacred ritual for Blonde Redhead as a
band as well; when they're on tour or rehearsing, they always share a meal, no matter what.
Owing to that sense of persistent togetherness, the immersive, meticulously-crafted Sit Down for Dinner
is a testament to the unique internal logic Blonde Redhead have refined over their three-decade existence.
Formed in the 1993 New York indie underground, Blonde Redhead quickly found a place on Sonic Youth
drummer Steve Shelley's label, Smells Like, before releasing beloved records on Touch & Go and 4AD
that traced an arc from angular indie-rock to cosmopolitan art pop. The trio might have been a
quintessential '90s band, if not for the fact that they continuously kept going, growing, never confined to
any era but the present.
On Sit Down for Dinner, the understated yet visceral melodies charging each song create a foil to lyrics
about the inescapable struggles of adulthood: communication breakdown in enduring relationships,
wondering which way to turn, holding onto your dreams. Going into the record, Makino had recently
spent time living on a tiny Italian island and pursuing solo music—an experience that instilled in her new
confidence to experiment and have fun. She returned to New York as the world was locking down,
quarantining with Amedeo and his partner upstate, where they focused on the music in seclusion.
Immaculately structured, imbued with sensitivity, clarity, and resolve, Sit Down for Dinner was ultimately
written and recorded over a five-year period spanning New York City, upstate, Milan and Tuscany.
The luminous groove and chord progression of "Snowman," sung by Amedeo, is one of many Blonde
Redhead songs inspired by the attitude and breeziness of Brazilian experimental music; a brilliant turn of
phrase melts its titular snowman into simply a man, struggling to express himself: "Do you feel alive or
do you only fall? So like a no man, that you are." Makino wrote "Rest of Her Life" as an elegy for her
cherished late horse, Harry, who she considered "almost like my soulmate" (and whose loss in 2020
moved her to read The Year of Magical Thinking). The song's vocal layers were inspired by the Swingle
Singers' a capella renditions of Bach.
The subtly brooding "If" embodies the existential unease of middle age, struggling to orient oneself and
locate where, and who, are home. The widescreen introspection of "I Thought You Should Know"
confronts the experience of being misunderstood, or unheard, by those closest to you. On "Kiss Her Kiss
Her," when Makino sings, "Even stars are closer," the lyric references a short story in Khul-Khaal, by the
Arabic writer Nayra Atiya, in which a woman hopes to divorce her husband, and is told "even the stars
are closer" than such a possibility. "It's about someone with a bold, entirely far-fetched dream, where you
know it will end in tears, but you want to be supportive anyway."
Elsewhere, the songs of Sit Down for Dinner find ways forward in pure experimentation. "Melody
Experiment" received its title when Makino "unlocked the song with the melody" in a moment of
serendipity. "I was singing a little bit off, in a bluesy way, and I was so fascinated," she says. "It feels
quite new, like something I haven't done before." With its stacked backing vocals, "Before" was written
with children's voices in mind, narrated from the perspective of a kid who thinks they know it all.
"Children have incredible abilities," Makino says. "They have a confidence that is so whole, they can see
through you a little." Amid the windswept melodies and arrestingly bittersweet tone of "Not for Me,"
Amedeo gave himself the challenge of vulnerability, writing while Makino was in Italy, longing for that
kind of freedom. "You ran with the flowers/And further than water/And further than our walls," he sings.
"Move to the side, move to the light, move to a place that no one can find."
Releasing Sit Down for Dinner in its 30th year, Blonde Redhead's perseverance partially came in realizing
that the process of making the record should necessarily be fun. "Usually I agonize and it's painful for me
to write music, but on this one, I didn't suffer as much," says Makino. "I wanted to put my foot down and
say: we can have a nice time together. The record sounds quite optimistic." Amedeo adds, "We do really
respond to each other. We depend on each other for inspiration. Kazu completes what I start; Simone
completes both with rhythm."
Perhaps this gives the title Sit Down for Dinner yet another layer, as the music, fittingly, is a pleasure,
with the ease of new conversation among familiar friends. Crucial to that equation are Blonde Redhead's
innate harmonic sensibilities, which Makino calls the core of the band. "We have a language we have
kept," she adds. "We try to change rhythms, concepts, and sounds. But that harmonic sensibility has
stayed the same. It hits the same part of your heart."