Brazilian Beats Leeds
Belgrave Music Hall, Leeds.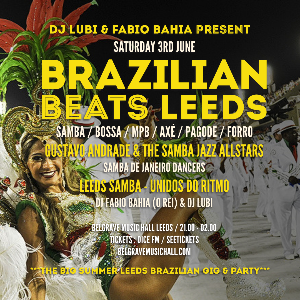 This event is for 18 and over - No refunds will be issued for under 18s.
More information about Brazilian Beats Leeds tickets
It's been 5 years since Belgrave Music Hall last bounced to a big party of samba rhythms, Rio carnival batucadas and baile funk so the venue is gassed to welcome back Leeds' original Brazilian beats kings DJ Lubi and Fabio Bahia for a firing live music and DJ session called "Brazilian Beats Leeds". For almost 3 decades they've hosted the best Brazilian music gigs and parties in the city and they've lined up another klller session tonight for the last big samba event of the summer. It's also been 5 years since they last co-promoted a Brazilian party together so it's another reason to celebrate.
Headliner tonight is Gustavo Andrade, a young saxophonist from Brazil who has lit up the local music scene in the last 3 years since he moved from sunny Sao Paulo to rainy Leeds in 2019 to study jazz at Leeds Conservatoire. He soon found himself in some of the best jazz/soul/hip-hop ensembles here including Elusive Dip, Yusuf Yellow & The Energy Collective, 2/22, Naali Collective and Portraits. In summer 2021, the the Gustavo Andrade Quintet was born and started gigging out playing classic bossa nova and samba jazz. Lubi asked Gustavo to expand the quintet for a Rio Carnival event in early 2022 and the Samba Jazz Allstars, now featuring 10 musicians with extra horns/percussionists plus singers, made their debut.
They play specially arranged Brazilian music by Gustavo including samba and MPB from Rio, axé from Salvador, some frevo from Pernambuco and forro fom Sertão. They will be playing Gustavo's arrangements of classic Brazilian music by artists such as Leci Brandao, Seu Jorge, Jorge Ben, Ivete Sangalo, Tim Maia, Gilberto Gil and Djavan. They sold out Manchester's Blues Kitchen earlier this year and have already done rocking live shows at Brudenell and Hifi Club in Leeds. There simply is no other Brazilian band like them in the north.
For the first time in 5 years, the Samba De Janeiro samba dancers are back at Belgrave and still under the direction of one of the top UK samba passistas (best dancers), Brasileira Lais Lazzarini. They'll be doing a full samba carnival show and maybe some freestyle dancing with the bands.

Bringing some Rio carnival style percussive sounds to the party are Leeds Samba, the city's much respected and loved Brazilian percussion samba school. Led by samba percussion mestre (master) Gez Heb and Brazilian samba dancer/percussionist Thali Bento, this samba drum ensemble is one of the top samba schools in the north of England. They've performed across the UK at festivals and carnivals and in Leeds at the annual Vamos Leeds Festival in Millennium Square, as well as other Brazilian events across the city. Whether rocking Rio style samba do carnaval and batucada beats or the hypnotic Afrocentric axé grooves of Salvador de Bahia, they always bring the authentic sounds of Brazil to the heart of Leeds. They will play their own set and some drummers may well guest with Gustavo's band.
Finally to the DJs. Lubi will be rocking the early doors vibes of MPB, samba rock, Brazilian hip-hop, bossa beats and pagode. Fabio will bring the late night party vibes of samba do carnaval, batucadas, axé, samba house, baile funk with a touch of forro. Twenty five years since they first rocked a Brazilian party together, and five years since their last event together, it's good to have them back together again.