Brudenell Piano Sessions
Brudenell Social Club, Leeds.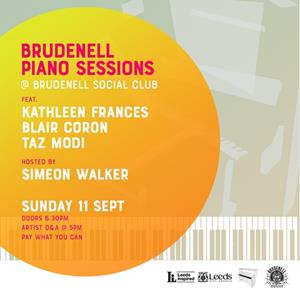 14+ only. 14s to 16s must be accompanied by an adult. No refunds will be given for incorrectly booked tickets.
More information about Brudenell Piano Sessions tickets
Brudenell Piano Sessions - Sunday 11 September 2022
Brudenell Piano Sessions return after the summer for another fascinating and varied evening of live music centred around the piano. Our September show sees performances from Bristol-based artist and producer Kathleen Frances; Scottish multi-instrumentalist and songwriter Blair Coron, blending modern classical, folk and poetry; and Taz Modi who combines atmospheric piano, lush strings, and subtle electronica to create uniquely evocative soundscapes
Hosted & curated as usual by pianist & composer Simeon Walker, this event also features our first pre-show Artist Q&A and discussion which begins at 5pm. Each artist will perform a song/piece, followed by a brief informal discussion centring on the artistic intention, meaning and arrangement behind the music, giving us an amazing opportunity to learn more about the artists and their work. There'll then be time for a legendary pre-show Brudenell pie and pint, before doors open at 6.30pm and music begins from 7pm.

We are grateful for the continued support of Leeds Inspired, which is part of the city's cultural programme that celebrates arts events and projects throughout the year, supporting high quality, accessible cultural experiences for Leeds' residents and visitors. Founded in 2012, Leeds Inspired supports culture in the city through grants schemes, commissions and a 'What's On' events website. Leeds Inspired is part of Leeds City Council: www.leedsinspired.co.uk
Join us for another intimate and cosy evening at the Brudenell, as we continue to enjoy the shared experience of listening to the wide range and variety of music that the piano affords musical creation and performance.
Kathleen Frances
It's rare to find a voice so unique, so bold, that it's strange to believe Kathleen was a very private singer until her late teens. As confidence grew she began to sing more publicly and influenced by artists like James Blake, Moses Sumney, Solange & Charlotte Day Wilson, she began working on her own music.
Kathleen's debut EP 'Through The Blue', a collection of haunting, intimate songs was released in March 2022 gaining support from BBC R1, BBC R3, BBC 6M, CRACK Magazine, La Blogotheque, Loud & Quiet, The Independent and more.
https://www.kathleenfrances.com/

https://www.instagram.com/kathleenfrancesmusic/

https://www.youtube.com/channel/UC2lg6PZkh1CYW-xQeDhdVdQ

Blair Coron
Blair Coron is a multi-instrumentalist and songwriter from Springfield, a small village in Scotland. His music blends modern classical, folk and poetry, with nature, people, time and place being common themes throughout. Blair's primary intention is to create enchanting atmospheres that sets course for introspection and meditation.
After the success of his debut album 'On The Nature of Things', which saw frequent airplay on BBC Radio 3, 4 & 6 and the following UK wide tour, Blair has released his second album titled 'Cairn' on March 25th 2022. It is a celebration of Scottish heritage, a thank you to all it has given so far, containing new music set to archival interviews of those living in the Highlands and Islands during the early 20th century discussing local legends, childhood reminiscences and traditions long forgotten.
An accompanying film was created to support the upcoming album, available via YouTube.
"The sweetness of these melodies is soothing; no matter what I'm looking at...everything around me suddenly becomes more beautiful."

"Exciting, uplifting and cerebral"

"A pleasantly lucid, atmosphere experience."

"If you need a little more peace in your day, I recommend it"
https://blaircoron.bandcamp.com/

https://www.instagram.com/blaircoron/

https://www.youtube.com/c/BlairCoron

Taz Modi
Best known as a member of both Portico Quartet and Submotion Orchestra, as well as for his work with artists such as Matthew Halsall and DJ Shadow, Taz Modi's solo project combines atmospheric piano, lush strings, and subtle, ambient electronica to create unique and evocative soundscapes. His critically-praised debut album 'Reclaimed Goods' was released in March 2019 and featured in Guardian writer John Lewis' top albums of 2019. It aims to bring as wide a range of expression into contemporary piano music as possible, with percussive prepared piano melding seamlessly with strings and beats.
Tonight he will be previewing music from his forthcoming second album, written and developed after his relocation to the Sussex countryside, and features the string trio of Justine Bui (violin), Mariona De Lamo (cello) and Fraser Bowles (cello).
'Shimmering, alluring...reminiscent of Sakamoto, Frahm and Hauschka...an even more effective exploration of solo piano' - The Guardian
'Understated genius' - Music Week
'Stirring contemporary piano-led compositions...a rich, emotive listen' - Bleep
https://www.instagram.com/taz.modi

https://www.youtube.com/channel/UCAVNitf4B4Jqeifngq8aYbA

Simeon Walker:
Leeds-based pianist & composer Simeon Walker has quickly emerged as a leading light in the burgeoning Modern Classical scene, following the release of Mono and Winnow, his two albums to date. In recent years, Simeon has regularly performed & toured across the UK and Europe; supported a variety of artists including S. Carey, LYR, Sebastian Plano, Loscil, Erland Cooper & Taz Modi; and performed notable live sets at Latitude & Timber Festival (UK), Q3Ambientfest (DE), FAN Festival (PT). His latest single 'Reverie' features on the first official Piano Day compilation by LEITER, alongside Nils Frahm, Olafur Arnalds and Chilly Gonzales.
His music receives regular broadcasts on BBC Radio 3 shows including Unclassified & NightTracks, alongside BBC 6Music, KEXP and Soho Radio, with his music boasting streaming figures in excess of 15 million times across platforms. He also founded and continues to curate Brudenell Piano Sessions; an intimate and varied live music series highlighting the diverse music being composed and performed on the piano, hosted at Leeds' iconic Brudenell Social Club.
Simeon's recent EP release Imprints represents a return to the calm, introspective piano-based instrumentals that first thrust him into the limelight; inviting the listener to find stillness, beauty and meaning as much in the spaces between the notes as the notes themselves, as musical stories are woven with each tender, intimate performance.
http://instagram.com/simeonwalkermusic
https://www.youtube.com/channel/UCamY48x4ykBl5noiTwWerVw