Charanga del Norte + Rumberos de Palo + DJ Lubi
Brudenell Social Club, Leeds.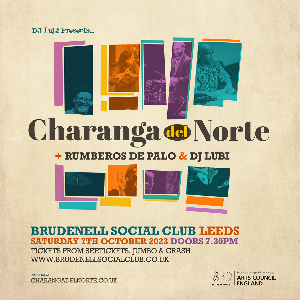 14+ only. 14s to 15s must be accompanied by an adult. No refunds will be given for incorrectly booked tickets.
More information about Charanga del Norte + Rumberos de Palo + DJ Lubi tickets
After
the great sold out "Mambo King : A Musical
Tribute To Tito Puente" show by Leeds Latin music legend DJ Lubi at Brudenell Social Club in the spring, here comes his next big classic Cuban music show at the venue. Leeds/London 12 piece orchestra Charanga del Norte playing traditional Cuban music - charanga, mambo, son Cubano and cha cha cha. Support comes from Spanish trumpeter Victor Estevez and his
Rumberos de Palo Afro-Cuban jazz band (they were the support band at the Tito Puente
tribute
show).
"Charanga del Norte" (Charanga from the North) was set up in 1998 in Leeds by the bandleader/flautist Sue Miller. They are a 12 piece group of Leeds and London musicians who play classic Cuban dance music (son, mambo, cha cha cha) in the classic "charanga" style featuring flute, violins/viola/cello, piano, bass, congas, timbales, hand percussion and vocalists. They played their first live shows at DJ Lubi's legendary Casa Latina nights in Leeds back at the end of the 90s.

For those unfamiliar with "charanga", it's a fusion of European musical styles and instrumentation with African rhythms and percussion instruments. Charanga's roots are in "danzon" music which evolved in the 19th century in Havana. In the 1940s, danzon and charanga were modernised and gave birth to the "mambo" and by the 1950s, charanga would spread to New York, taking the mambo and it's slower cousin the cha-cha-cha to the Big Apple. Charanga became hugely popular there with the Latin American diaspora communities as well as the non-Latin mambo dancing crowd and a New York variant of charanga called "pachanga" became popular at this time. Charanga del Norte plays both styles.
Sue Miller studied Cuban flute improvisation in Havana with the legendary Richard Egües from Orquesta Aragón, the best known Cuban charanga orchestra of all time. Her band have toured the UK many times in the last 25 years and have performed at prestigious venues such as the Bridgewater Hall in Manchester, and The Barbican in London supporting Buena Vista Social Club's Eliades Ochoa, Orquesta Aragón and Changui de Guantanamo. The band features the cream of the crop from the UK salsa scene including flautist Sue Miller (who has played with legendary Cuban and New York-based charangas Estrellas Cubanas, Orquesta Barbarito Diez, Charanga de Oro, Orquesta Sublime, Charanga Soleil and Orquesta Broadway), pianist Kim Burton (Sonido de Londres and Roberto Pla Latin Ensemble), bass player Ruth Bitelli (Candela/La Clave), singer Guillermo Monroy (Merengada and Los Musicos), and percussionist Andy Warner (Septeto Siboney/Salsa y Ache). In the string section they have original members violinists Nick Williams and Jon Lindh (violins), cellist Andy Wardale (Hallé Orchestra) and Angela Antwi-Agyei from the ground-breaking Chineke Orchestra.

They have released 5 albums since 2008 and are now celebrating
over 25 years in the business. Their latest album "Pachanga Time", was
released
back in the summer of 2020. It was also their first vinyl release. It had great responses worldwide, from Colombia to Tokyo, New York to Copenhagen. However, due to the covid pandemic, they couldn't gig to promote the album. In 2023, they have come back strong with live shows in Leeds and London and a
UK tour this autumn (which this show is part of). There is only one authentic charanga orchestra in the UK and this is it. Love classic Cuban music? Then do not miss this gig, Charanga del Norte playing live where it all began 25 years ago....Leeds.
The support band is Rumberos de Palo, a Leeds-based Afro-Cuban
jazz band led by Spanish trumpeter Víctor Estévez. Victor was born in Arganda del Rey, a town near Madrid, and grew up surrounded by bolero, flamenco and Latin jazz albums. Having participated in numerous salsa, jazz, flamenco and latin jazz projects, both in Spain and the UK, he arrived in Leeds three years
ago to study at Leeds Conservatoire and quickly immersed himself into the city's buzzing jazz scene. He formed this new Latin jazz band in 2022 featuring some of the best musicians at the conservatoire.
Together they play a great mix of Latin jazz, mambo, son Cubano, cha cha cha and bolero. A perfect combination for the dancer or the listener. They opened the Tito Puente tribute show last spring at Brudenell Social Club and have also played at Leeds Jazz Festival, Sela Bar, Seven Arts, Hyde Park Book Club (Salemango Festival) and other Leeds venues. Get down early to catch their set as they are one hot band.
Before, between and after the live sets, DJ Lubi will play his trademark mix of classic salsa and Cuban music (son Cubano, cha cha cha, mambo) to keep the dance floor busy, delivering another great DJ Lubi night of live Cuban, Latin and salsa music in Leeds. Just as he's done for
the last four decades.