Daxx & Roxane and Dirty Sound Magnet (co-headline)
Brudenell Social Club, Leeds.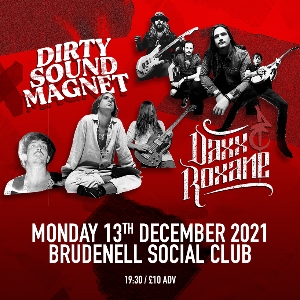 More information about Daxx & Roxane and Dirty Sound Magnet (co-headline) tickets
Daxx & Roxane
Daxx & Roxane are a 'full-throttle' 4 piece rock n' roll band originating from Switzerland, now based in London (UK).
Citing Led Zeppelin, Deep Purple and Mo?tley Cru?e as key influences, it's no surprise that their philosophy is that "Rock 'n' Roll is all about energy. All about creating an adrenalin rush" - and that's reflected in their intense live shows, as anyone who witnessed their storming homecoming gig at the Montreux Jazz Festival would certainly tell you. The band was also handpicked as main support at HIM's final UK show in December 2017 at the Camden Roundhouse, which speaks for itself.
Their commitment to writing songs with killer riffs that grab you and refuse to let go, and huge chorus hooks that mark them as instant classics, is reflected in their highly praised debut album, 'Ticket to Rock'. Their second studio album, rightfully self-titled 'Daxx & Roxane', showed the world they have what it takes to continue on the right tracks. Released in the middle of the world's lockdown, it ended up on many shelves around the globe, from the UK to Japan, from Australia to the USA.
In the past 3 years, they started collaborating with world-known people from the industry. To mention just a few, they worked with Brit Award- winning producer Pedro Ferreira (The Darkness, Meatloaf, The Stereophonics) and legendary Don Airey (Deep Purple) on the single 'Interstellar', with the video being exclusively premiered on Planet Rock.
With songs that have collectively spent over 50 weeks on the Planet Rock playlist and a host of 9 and 10 out of 10 album reviews, singles being played all over the world on more than 80 radio stations, both albums have proven being worth a listen.
Hard Rock Hell Mag might just be right in suggesting that, "Daxx & Roxane are on the fast track to Superstardom".
?Dirty Sound Magnet
Psychedelic Rock power trio that will blow your mind away with its unique multi-faceted compositions and virtuosity.
From catchy rock'n'roll high-energy rock songs to shamanic psychedelia, a Dirty Sound Magnet show represents an amazing experience for any music lover. At any time, an outburst of raw electrifying energy can transform into emotionally overwhelming and mysterious landscapes made of complex colourful layers. The eye sees three musicians while the ear hears an orchestra. And every night the music is different…
Their new album Western Lies was released on the 12th of May 2017 and sees the band start a never-ending European tour. The song Homo Economicus won the award in the category best Swiss rock song 2017.
The album denounces our capitalist society sarcastically and metaphorically. The atmosphere is dark, disturbing and full of mysticism. Hints of film music, inspired and powerful rock songs, electronic loops, unique guitar solos and dreamy melodies will take the audience on an unexpected spiritual journey.
Western Lies is a DIY project. During one year, the musicians isolated themselves from the outside world in their self-built studio to create their very own sound. On every level, the experimentations led to a unique album. The songwriting, the sound and the atmosphere that shines on Western Lies are beyond classification. Let's call this genre Mystic Rock or Creative Rock.