Dry Cleaning
Leeds University Stylus, Leeds.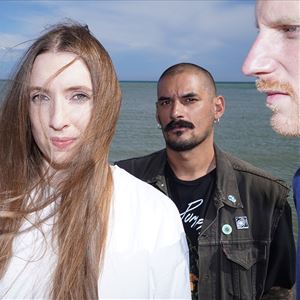 More information about Dry Cleaning tickets
Dry Cleaning

Release New Song 'Gary Ashby' & Worldwide Tour

Third Single Taken From New Album Stumpwork

-
Out 21 October
Today, Dry Cleaning share a new song, 'Gary Ashby'. The third single from the London-based quartet's second album, Stumpwork (out 21 October), follows the travails of a beloved family tortoise lost in lockdown ("Have you seen Gary?"). Loaded with melodious hooks, the 2-minute jangle pop song is "a lament about a pet tortoise, escaped as a result of family chaos," explains the band. "We wrote it in December 2020, one of the first new songs after the New Long Leg session."

'Gary Ashby'

To support the release of Stumpwork, Dry Cleaning has announced a worldwide headline tour, full routing listed below. Tickets go on sale on Wednesday 14 September at 10am local time. A pre-sale will begin on Friday 9 September at 10am BST. To access, fans need to be signed up to the Dry Cleaning mailing list before the pre-sale period.


Stumpwork, the follow-up to 2021 debut New Long Leg will be released on 21 October and includes the singles 'Don't Press Me' and 'Anna Calls From The Arctic'. Stumpwork will be available digitally and on CD, cassette, standard white vinyl and limited-edition black eco vinyl. For more information and to pre-order, head to drycleaning.ffm.to/stumpwork.

ABOUT STUMPWORK

Having already started writing their second record before New Long Leg was released, Nick Buxton, Tom Dowse, Lewis Maynard and Florence Shaw returned to Rockfield Studios with producer John Parish with the plan to spend twice as much time on the follow-up. Vocalist Shaw demonstrated increased spontaneity in the studio, improvising many of her lyrics straight on to the album. The lyrics are almost entirely observational. There is one quote from the artist Maggi Hambling on the woozy title track, text from an old Macintosh computer virus on 'Don't Press Me', and snippets from the press cuttings library of archivist Edda Tasiemka scattered throughout, but the use of 'found lyrics' employed in the band's early years is now far in the past. "I wrote about the things that preoccupied me over this period, like loss, masculinity, feminism, my mum, being separated from my partner for little stretches in the lockdown, lust," she continues, preoccupations from which wider political and social commentary emerges. "I think if you make something observational, which I think I do, it's political," Shaw says. "There were two murders of women in London that were extensively covered on the news, and the specific details of one of those murders were reported on whilst we were at Rockfield. That coverage influenced some of my writing and my state of mind." The band's instrumentation, too, may well reflect our increasingly bleak socio-political landscape, the way it can pick up intense and urgent momentum, or zone out into icy detachment.?


Stumpwork was made in the aftermath of the death of two very important people to the band as well, bassist Lewis Maynard's mother, and guitarist Tom Dowse's grandfather. Both were instrumental in the band's development, in encouragement and, in the case of Maynard's mother, literally providing the band with a place to rehearse. "It's of course devastating to lose close family members but their legacy in Dry Cleaning is wholly positive," says Dowse. "The moments in the songs which are upbeat and joyful made me think of them both the most."


The breadth of influences on Stumpwork is dizzying, a definitive rebuke to those who might reduce Dry Cleaning as a post-punk band. Their music is bolder and more expansive, Shaw's lyrics explore not only loss and detachment but all the twists and turns, simple joys and minor gripes of human experience too. Ultimately, what emerges from it all is a subtle but assertive optimism, and a lesson in the value of curiosity. As Shaw sings on 'Kwenchy Kups', "Things are shit, but they're gonna be OK."

DRY CLEANING ONLINE

Dry Cleaning are a 4-piece from South London channeling post-punk and new wave pop with a side order of low slung Americana. Their upcoming 6-track EP 'Sweet Princess' is a kaleidoscope of images pieced together, where the everyday collides with the profound.