Ferg's Imaginary Big Band + Amon Ra Collective
Brudenell Social Club, Leeds.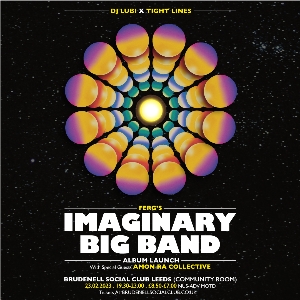 14+ only. 14s to 15s must be accompanied by an adult. No refunds will be given for incorrectly booked tickets.
More information about Ferg's Imaginary Big Band + Amon Ra Collective tickets
Leeds' biggest and best cult music ensemble Ferg's Imaginary Big Band (led by maverick bass player/composer/bandleader and all round musical genius Fergus Quill), return to the Brudenell Leeds for the first time in almost a
year and a half. Not only are they bringing their usual chaotic but beautiful cosmic big band jazz x punk/noise vibes to the Community Room stage once again but this time, they will be launching their
DEBUT ALBUM live on the night it comes out. A minor miracle
but Fergus managed to finally get 24 musicians into a recording studio to put down an album full of original material and they'll actually have vinyl copies for sale after the show!
Ferg's Imaginary Big Band are a 24 piece jazz x noise machine who are part of the burgeoning left-field independent Leeds music scene spearheaded by the Tight Lines record label. Initially inspired by the cosmic jazz legend and musician/band leader Sun Ra, Ferg's Imaginary Big Band is a semi-fictional large ensemble whose primary aim is to bring big band music kicking and screaming into the 22nd century. The IBB play rowdy and always huge sounding arrangements of an incredibly diverse selection of tunes from composers including Duke Ellington, Sun Ra, The Rajasthan Express, Count Basie, the Art Ensemble Of Chicago alongside a growing
number of original
compositions written and arranged by Fergus and other members of the group. Tonight, the focus will be on the latter as the
orchestra focuses on music from the debut album.


Consisting of members from Têtes de Pois, Skwid Ink, TC & The Groove Family, Ancient Infinity Orchestra, The Mabgate Organ Trio, The Fergus Quill Trio, State Of Satta, the Belgrave House Band, Project Hilts, Awen Ensemble, Golden Age of TV, Long Legged Creatures and Amon
Ra Collective, it's literally a who's who of the vibrant Leeds DIY jazz/experimental/electronic music scenes. Obviously with such a huge line-up of incredible musicians, getting the ensemble together for live shows is a major challenge on it's own and thus to date, they've still only played less than 15 shows in 4 years. If you're lucky to catch them at one of these rare cultish happenings, it's less like a standard gig and more like a huge sound and vision experience. A place where fantastic musicianship and soloing meet theatrical drama and punk attitude with a huge dollop of humour binding it all together. There's literally no other ensemble like this in the UK today.

Band leader Fergus Quill has released two solo albums in the last 2 years with his trio (both also on Tight Lines), and his profile within the UK jazz scene jumped up massively in 2022 when he won the prestigious
Music Company/Tina May Award for "Best Young UK Jazz Musician Of The Year". He was also named as one of the top 50 young jazz musicians worth checking out by Readers Digest Magazine in an article about the UK jazz explosion of recent years. Now at last comes the debut album from his large ensemble Ferg's Imaginary Big Band and there's no better place to hear them launch it live than at the Brudenell through that
amazing sound
system.

Support comes from the next generation of cosmic music travellers, Amon Ra Collective. They
are a Leeds astro-spiritual jazz group
exploring continuous groove-based group improvisation. Although the repertoire is often progressing, spiritual ideals of unity, change and reconnecting with the higher consciousness are unifying themes. Influenced by Sun Ra, The Coltranes (John and Alice), Pharaoh Sanders, electric Miles and folk music, they are one of the most adventurous new young jazz bands to emerge from the current intake at Leeds Conservatoire. They've already made their debut at the venue back in December supporting Mu Quintet so it's good to have them back.
This is another "DJ Lubi Presents" show where promoter Lubi Jovanovic continues
in his quest
to find, support and promote the best young emerging
jazz talent in Leeds.