Grassroots
Brudenell Social Club, Leeds.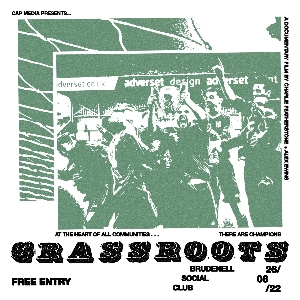 More information about Grassroots tickets
In 1999 Bishopthorpe had a problem, there was no football for kids. A group of parents realised this and wanted to change that. One of these parents was Gary Featherstone who had a vision to provide a legacy for future generations by building state-of-the-art facilities, a far-reaching dream at the time, which sometimes felt unachievable. 22 years later this dream became a reality when White Rose Park was opened, this documentary will unravel the challenges the club faced on its journey. 'Grassroots' focuses on football in a local Village, a story about community and togetherness. It follows a football club at the bottom of the pyramid of English football, with its focus on the trials and tribulations of the first team in its endeavour to be promoted. Following characters such as Jack heath, the captain of the team and Jacob Green who has very personal reasons he continues to play, as well as professional footballers like Charlie Taylor and Rory Watson who both came through Bishopthorpe junior team to realise their dream.
This feature length documentary will delve into the lives of key founding members of the institution like Gary, and the challenges of setting up and running a community funded football club, following certain current players in the first team to ask the question of why they volunteer and what they gain. This heart-warming story will provide a fascinating and humorous insight into an area of football that is so important to so many people's lives, a format like no other.