I Like Trains
Brudenell Social Club, Leeds.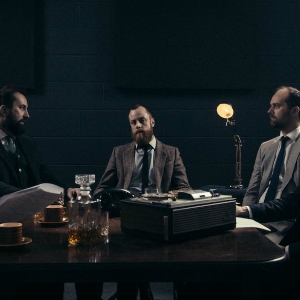 More information about I Like Trains tickets
I LIKE TRAINS return. Their first hometown show in three and a half years will showcase material from a forthcoming new album. Details of the new album are on a strictly need to know basis. There are clues if you know where to look. Which data to scrape. Whose palms to grease.

Their previous studio album The Shallows, looked at our personal relationship with technology and how it shapes the way we think and retain knowledge. In the eight years since its release, those technological themes have taken an even more sinister turn. The truth is no longer concerned with the facts.

Live visuals will be provided by previous co-conspirator Michael Connolly - a Leeds born artist and designer. This new artwork promises to be a dynamic exploration of the new tech/cultural hegemony in which we are now all involuntary bit players.

NYX co-headline the evening as they bring their live show to Leeds for the first time. A collaborative drone choir with otherworldly electric chorus, re-embodying live electronics and extended vocal techniques. The visceral arrangements and original compositions by choir leader Sian O'Gorman, NYX looks to reshape the role of the traditional female choir, testing the limits of organic and synthetic modulation to explore the entire spectrum of collective female voice as an instrument. Alongside solo projects, NYX is a collaborative force, recently developing special projects with multidisciplinary artists such as Gazelle Twin, Christina Vantzou, Dan Tobin Smith, Hatis Noit, Iona Fortune and Alicia Jane Turner with Dead Light under the creative direction of Sian O'Gorman, Philippa Neels and Joshua Thomas.