Jarrod Lawson & Sam Binotti Quintet
Brudenell Social Club, Leeds.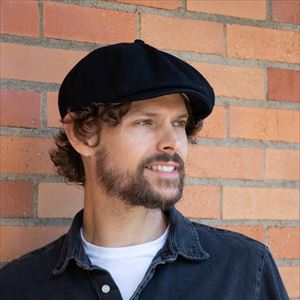 PLEASE CHECK ALL VENUE COVID GUIDANCE PRE-SHOW FOR LATEST INFORMATION.
www.brudenellsocialclub.co.uk
14+ only. 14s to 18s must be accompanied by an adult. No refunds will be given for incorrectly booked tickets.
More information about Jarrod Lawson & Sam Binotti Quintet tickets
Leeds soul/jazz music promoter Lubi Jovanovic (Jazzland Sessions/RE:SOUL) features his first international artist in Leeds since before the pandemic and it's a musician he's presented in the city in the past and one of his favourite U.S. artists....."blue eyed soul" singer and pianist Jarrod Lawson.
The Portland/Oregon musician is back in Europe with his quartet for his long delayed 2020 "Be The Change" album tour and he drops into the UK for a very limited and exclusive series of shows including Leeds. That album was only his second since his debut breakthrough album "Jarrod Lawson" in 2014, a release that saw him arrive in Europe and the UK for his first ever tour and sell out venues as well as appear at some of the biggest jazz festivals on the continent. That tour and one a few years later saw him play concert and festival dates in 15 countries, including the North Sea Jazz Festival Holland, London Jazz Festival, London Jazz Cafe and the world renowned Ronnie Scott's Club, which he sold out. He also recorded some prestigious radio sessions for the BBC, including one from the historic BBC Maida Vale studios in London, which was released as an EP in 2015. He has since performed around the world in Tokyo, Beijing, Melbourne and at Indonesia's Java Jazz festival. In the US he has played many of the leading jazz venues from New York to Seattle, as well as performing on the Capital Jazz Cruise.
He appeared on Dutch television and played a number of live sessions on Dutch national radio, building a following that resulted in a Top 40 chart entry for the album, while his popularity in the UK has continued to grow with festival appearances and headline concert dates. Following the release of "Be The Change" he was honoured to be included in radio station Jazz FM's Top 100 Artists of All Time, chosen by listeners, in the company of many of the jazz and soul legends he has admired since childhood. He also ended 2020 by guest hosting a two-hour show on Jazz FM, selecting his favourite tracks and artists.

Returning to recording in 2020, six years after the release of his self-titled debut, Jarrod Lawson made his mark immediately his sophomore album "Be The Change", scoring entries at No.1 on Amazon's Jazz Albums chart and at No.2 on Billboard magazine's Contemporary Jazz Albums chart. The album features his regular quartet plus some special guests including legendary Latin percussion session musician Sammy Figueroa (Miles Davis, Herbie Hancock, Quincy Jones, Hall & Oates, Chic, Carole King) plus members of L.A. alternative neo-soul band Moonchild.
Lawson's earliest memories were exploring his father's recording studio in Redwood City, California, the family home at the time. At the age of two he found his way to the drum kit, which created in him a highly rhythmic sensibility that can be witnessed in his keyboard playing to this day. At the age of eight, he moved with his family to Portland and began delving into his father's record collection, enjoying the music of Donny Hathaway and Stevie Wonder, two giants who would inspire and inform his own development as a singer and songwriter.

At 13, as he delved into the magnificent harmonies of soul, a near obsession with the piano blossomed. Lessons began under his father's tutelage and in his quest to find his own sound he discovered the masters – from Chopin to Chick Corea, Oscar Peterson to Joni Mitchell, Ravel to Errol Garner. He went on to study music and was a member of his college chamber choir and jazz ensemble. Following the release of his self-titled debut album the smokey-voiced singer-songwriter sent positive ripples around the globe with his powerful message songs such as "Music And Its Magical Way", "All That Surrounds" and "Sleepwalkers". With his new album "Be The Change" in 2020, he futher enhanced his reputation as a fantastic singer, an extremely skilled pianist/soloist and a songwriter of quality compositions that sound like classics but with a contemporary feel.
Some quotes from reviews for "Be The Change" :
"Six years have passed since his rapturously received debut album, so these tracks certainly haven't been rushed. Au contraire, each one has been lovingly burnished to a deep-down sheen of perfection" – London Jazz News
"This album is his crowning achievement to date – the kind of set that really pushes him over the top and which earns the term 'instant classic' in our book" – Dusty Groove, Chicago
"Jarrod Lawson delivers a masterpiece... Its sophisticated blend of soul and jazz displays again an artist who is the real deal" – SoulTracks.com
"Soul doesn't get any better than this in 2020. Unquestionably Album of the Year" – Soul Brother Records, London
"The man from Portland has repaid our patience with another wonderful selection of work...Excellence is everywhere" – Echoes magazine
Stream the album here : https://open.spotify.com/album/2BLdsdbOgGAAdA7JKMQIqx

Support comes from rising star of the vibraphone or "vibes" Samantha Binotti aka Sam Binotti. She arrived from Italy a few years ago to study jazz vibes at Leeds Conservatoire, quickly jumped into the Leeds jazz scene and decided to stay here after she graduated. Her band play groove based jazz heavily influenced by one of her vibes heroes, the one and only Roy Ayers. Expect some vibrant jazz-funk led from the front by Sam and her vibes.