Jazzland Sessions Brazil 2 / Carioca Soul
Brudenell Social Club, Leeds.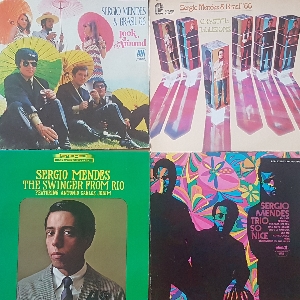 Although all covid mitigation restrictions have been lifted on 19th July, this gig remains a table seated show.

There is no need to book a table.

Just buy individual or group tickets and sit where you like.

Please check the venue's website for their guidance on attending the venue after all restrictions are lifted on 19th July.
14+ only. 14s to 15s must be accompanied by an adult. No refunds will be given for incorrectly booked tickets.
More information about Jazzland Sessions Brazil 2 / Carioca Soul tickets
After the first Jazzland Sessions Brazil show in June with Tempo Feliz sold out in just EIGHT days and was a massive success, DJ Lubi had to do a second one. This time, two musicians who had a supporting role in the first gig playing in the opening band, pianist Wayne Pollock and tenor saxophonist Gustavo Andrade, step out front into the limelight for Jazzland Sessions Brazil 2.
Carioca Soul is the Brazilian bossa/soul jazz outfit led by longtime Leeds jazz and soul pianist Wayne Pollock. His soul band Brothers On The Slide were a mainstay of the Leeds scene for many years and as a solo artist and session player, Wayne has supported Jools Holland and featured on a Top 40 album by Ten Millennia. He's always had a love for Brazilian music, especially bossa nova, and as a pianist he was drawn to the music of Rio's legendary pianist/bandleader Sergio Mendes. In 2018, he put together a line-up of top Leeds jazz players to play the music of Sergio's hugely popular Brasil 66 band but over the last few years, Wayne has written original material to add to the cover versions. On this night, they will launch their debut EP which will feature both original numbers alongside some Brazilian bossa jazz classics.
In 2020, Wayne Pollock was awarded an Arts Council Of England grant to go study Brazilian music at it's centre, Rio de Janeiro, but he had to defer the trip for a year due to the pandemic. The chance to continue his Brazilian music songwriting journey in it's country of origin and working/recording with some of the musicians that played with Sergio Mendes and other bossa nova legends is a dream come true.
Carioca Soul are :
Wayne Pollock (piano/keyboards/musical director) - John Settle (drums) - John Marley (bass) - Richard Jevons (guitar) - Danny Templeman (percussion) - Kate Peters (vocals) - Jenny Smith (vocals)
Support comes once again from young Brazilian tenor saxophonist Gustavo Andrade and his band of fellow Leeds Conservatoire student musicians and alumni. He was due to open for Tempo Feliz at the first Brazilian gig but his bass player had to self-isolate so he had to cancel. However, he did play as a guest of the last minute replacement band, the Wayne Pollock Bossa Jazz Quintet. Tonight he's back with his own band and it's a heavyweight bunch. Gustavo on tenor sax, Emyr Penry Dance - trumpet (Awen Ensemble/Tempo Feliz), Theo Black - guitar (Rosie Miles Band/Spacey Basement Cult), Joe Wilkes - bass (Grifton Forbes Amos Quintet), Eddie Boyes - drums (Grifton Forbes Amos Quintet/Amy Clark Quartet). They'll be playing some classics and rarities from the Brazilian music songbook - bossa, MPB, Brazilian jazz. To give you an idea of the flavour, Gustavo's favourite Brazilian musicians are bossa/MPB legends like Jorge Ben, Tom Jobim, Tim Maia and Djavan. And from the jazz side, he loves Vinicius Chagas, Hermeto Pascoal and Amaro Freitas.
Before and between sets, DJ Lubi will be playing some Brazilian music classics to keep everything nice and bossa/samba vibed.