Jazzland Sessions: Vipertime (single launch)
Brudenell Social Club, Leeds.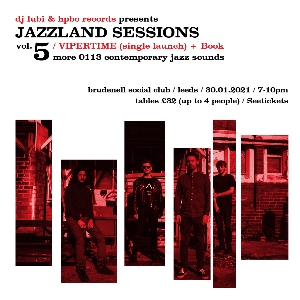 "All tickets are seated only, capacity is very limited.
Tickets are only available to pre book via our links advertised on our site and will be digital only.
All seats sold are allocated, we will auto allocate your seating.
Compliant with current government guidance we will follow all current restrictions for events and hospitality.
On arrival digital tickets will be shown to greeter who will show customers to their seats.
Sanitiser stations can be found throughout the building, we encourage all customers to use these at regular intervals. If going to use the toilets.
Face masks are mandatory when moving around the venue, you will need to bring your own, we will not provide PPE for patrons. 
Once seated you may remove your face mask if you choose to. 
Adhering to government guidelines, standing, dancing and singing along at volume during the event is not permitted. 
If you do not follow to this guidance, you may be asked to leave.
The venue will be sanitised, and covid cold-fogged prior to performance.
Please DO NOT attend the event if you have symptoms of COVID-19.
For further information on the venue's safety measures, visit the venue website.
By purchasing tickets you agree to the above terms and conditions."
More information about Jazzland Sessions: Vipertime (single launch) tickets
Due to the third English COVID-19 lockdown in January 2021, the 30th January Jazzland Sessions with Vipertime and Book show at Brudenell Social Club is now rescheduled to Friday 30th April 2021. All table bookings made for previous dates are valid for the new show.
Vipertime were born out of the snake-pit of Leeds house parties with a fierce stripped down line up of tenor sax backed by in-your-face electric bass and two drummers. Blending forms and harmonies of 1970s ethio-jazz with post-punk, 60s garage sounds, free jazz and afrobeat, they create potent improvised music for the dance-floor OR in this gig's case, seat shuffling as no dancing for our COVID compliant seated gigs.
After forming in early 2018 as a free improvising group the band recorded their first EP "All Our Heroes Are Dead", which received radio play on BBC 3, Worldwide FM and BBC Introducing. By the end of the year, the band had settled on a permanent line up featuring members of Roller Trio, World Service Project, Mansion of Snakes, KOG & The Zongo Brigade and Wandering Monster.
Debut LP "Shakedown", released on HPBC Records in May 2019, showed Vipertime in sharp focus and with lethal intent. A maelstrom of impassioned saxophone rises out of a mass of seething bass and drums, moving between driving riffs and agile improvisation. Their 2020 EP "Live At Smugglers Festival" bares all the ferocity, abandon and razor sharp senses of the band's live performance. Their line-up of saxophone, bass and two drum kits is pushed further than before, moving swiftly from voodoo fury to tender introspection, the audience at their heels with every move. In February 2021, Vipertime released their first single of 2021 "Limbs", once again on HPBC Records and a second single this year drops in April 2021. Another nice taster for their second album coming later in 2021.
Vipertime are : Ben Powling - tenor saxophone, Matías Reed - bass guitar, Charlie Grimwood - drums, Luke Reddin-Williams - drums
"'Amazing. Great music" - Quinton Scott, Strut Records
"They harness the sweatiness, chaos and the musical nous of the legendary Leeds DIY nightlife/music scene and replicate it with undeniably gripping swagger" - Jazz Revelations
Book were born at Leeds College Of Music (now Leeds Conservatoire) back in 2018 and are one of the most exciting contemporary jazz units right now in the city. The power trio (keys, bass guitar, drums) fuse jazz improvisations with infectious grooves, polyrhythmic beats and rock energy that will have even the geekiest cool jazz nerd nodding their heads with eyes closed ecstasy at the solos and improvisation.
Book are : Jonathan Lodder - drums, Michael Kempster - keys, Callum Quin - drums
This concert will fully comply with existing government COVID-19 safety regulations. You can check these at the venue's website.
Tickets £32 per table
Table bookings only : up to 4 persons per table - all tickets must be pre-booked.

***if government COVID-19 rules change regarding public places and venues are closed again, this event will be postponed and rescheduled to a later date and all tickets sold will be valid for a new date***