Jazzland Sessions Vol 1 - Tetes De Pois - 2nd Show
Brudenell Social Club, Leeds.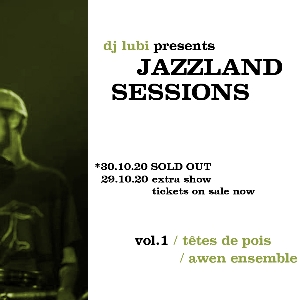 2ND SHOW DUE TO DEMAND
Tickets £28 per table
Table bookings only : up to 4 persons per table - all tickets must be pre-booked
All tickets are seated only, capacity is very limited.
Tickets are only available to pre book via our links advertised on our site and will be digital only.
All seats sold are allocated, we will auto allocate your seating.
Compliant with current government guidance we will follow all current restrictions for events and hospitality.
On arrival digital tickets will be shown to greeter who will show customers to their seats.
Sanitiser stations can be found throughout the building, we encourage all customers to use these at regular intervals. If going to use the toilets.
Face masks are mandatory when moving around the venue, you will need to bring your own, we will not provide PPE for patrons.
Once seated you may remove your face mask if you choose to.
Adhering to government guidelines, standing, dancing and singing along at volume during the event is not permitted.
If you do not follow to this guidance, you may be asked to leave.
The venue will be sanitised, and covid cold-fogged prior to performance.
Please DO NOT attend the event if you have symptoms of COVID-19.
For further information on the venue's safety measures, visit the venue website.
By purchasing tickets you agree to the above terms and conditions.
More information about Jazzland Sessions Vol 1 - Tetes De Pois - 2nd Show tickets
DJ LUBI PRESENTS
JAZZLAND SESSIONS VOL. 1
Têtes De Pois + Awen Ensemble
Thursday 29th October 2020 - 7pm to 10pm - Brudenell Community Room
As the COVID-19 pandemic continues to impact live music, we are happy to announce a series of limited capacity, all seated, COVID-19 mitigated jazz concerts curated by Leeds jazz legend, promoter and DJ Lubi Jovanovic aka DJ Lubi. Welcome to the JAZZLAND SESSIONS, four concerts featuring some of the best jazz musicians in Leeds today. These include Têtes De Pois, Awen Ensemble, Malcolm Strachan, Wandering Monster, Jasmine plus a special tribute night to the greatest modern jazz label of all time, Blue Note Records, featuring the music of Art Blakey (played by drummer George Hall's Ugetsu ensemble) and Grant Green (played by Canadian guitarist Jeff Hewer's quartet).
Launch night is Friday 30th October and features Leeds global jazz stars Têtes De Pois with support from Leeds Conservatoire final year students and alumni Awen Ensemble.
Têtes De Pois are a 7 piece genre bending Leeds band playing contemporary jazz fused with soul, hip-hop, Latin rhythms and afrobeat. Formed at Leeds College Of Music a few years ago, they quickly established a local following through packed gigs and music releases - four singles and an EP to date including collaborations with Rob Mitchell (Abstract Orchestra), Alice Kim and Otis Mensah. They've completed extensive UK tours, supported the likes of Ezra Collective/Fatima/Soweto Kinch/Joe Armon Jones in Leeds and played major festivals like "A Love Supreme", "Manchester Jazz Festival", "World Islands" and "We Out Here". This year should have been another big one for the band with more live gig and festival appearances across the UK. In reality, they have played just one live show and that was a support slot. Tonight is their first and only headline show of 2020 so do not miss this gig
Têtes De Pois are : Harry Fowler (tenor sax) - Ben Haskins (guitar) - George MacDonald (keys) - Owen Burns (electric bass) - George Hall (drums) - Josh Ketch (percussion) - Grifton Forbes-Amos (trumpet)
Awen Ensemble are a Leeds based contemporary jazz collective formed of current students and alumni of Leeds Conservatoire. Each member has heavy involvement in the vibrant Leeds jazz scene and can be found playing in other bands including Yaatri and Narcle. The word Awen, meaning "poetic inspiration" in the Brittonic Celtic Languages of Welsh/Breton/Cornish, and is a nod to the Celtic heritage of band leaders Emyr Penry Dance, and Ruari Graham. The band's compositions display an eclectic hybrid of tribal colours and modern harmony with melodic focus sitting at the centre of the music's intent
Awen Ensemble are: Emyr Penry Dance (trumpet/flugelhorn) - Saul Duff (tenor saxophone) - Samantha Binotti (vibraphone) - Ruari Graham (electric guitar) - Joe Wilkes (bass) - Jona Tromp (drums)
This concert will fully comply with existing government COVID-19 safety regulations. You can check these at the venue's website.
Tickets £28 per table
Table bookings only : up to 4 persons per table - all tickets must be pre-booked.
***if government COVID-19 rules change regarding public places and venues are closed again, this event will be postponed and rescheduled to a later date and all tickets sold will be valid for a new date***