Jazzland Sessions Vol 7: Tight Lines Takeover
Brudenell Social Club, Leeds.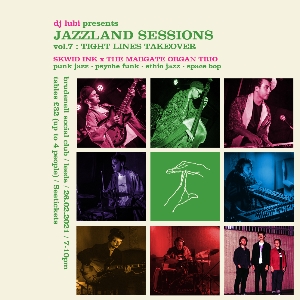 "All tickets are seated only, capacity is very limited.
Tickets are only available to pre book via our links advertised on our site and will be digital only.
All seats sold are allocated, we will auto allocate your seating.
Compliant with current government guidance we will follow all current restrictions for events and hospitality.
On arrival digital tickets will be shown to greeter who will show customers to their seats.
Sanitiser stations can be found throughout the building, we encourage all customers to use these at regular intervals. If going to use the toilets.
Face masks are mandatory when moving around the venue, you will need to bring your own, we will not provide PPE for patrons. 
Once seated you may remove your face mask if you choose to. 
Adhering to government guidelines, standing, dancing and singing along at volume during the event is not permitted. 
If you do not follow to this guidance, you may be asked to leave.
The venue will be sanitised, and covid cold-fogged prior to performance.
Please DO NOT attend the event if you have symptoms of COVID-19.
For further information on the venue's safety measures, visit the venue website.
By purchasing tickets you agree to the above terms and conditions."
14+ only. 14s to 15s must be accompanied by an adult. No refunds will be given for incorrectly booked tickets.
More information about Jazzland Sessions Vol 7: Tight Lines Takeover tickets
After a successful series of COVID compliant/all seated/limited capacity shows October 2020 featuring local jazz heroes, Brudenell Social Club welcomes back longtime Leeds DJ/promoter Lubi Jovanovic in 2021 with more of his Jazzland Sessions concerts. Tonight, Leeds DIY guerrilla jazz/experimental music collective/label Tight Lines take over the whole night with two of their main bands, Skwid Ink and The Mabgate Organ Trio. 
Since they came together as a loose collective of like minded souls as students at Leeds College Of Music (Leeds Conservatoire now) back in 2016, Tight Lines have been at the forefront of the resurgence of jazz interest amongst the youth of Leeds. A collection of musicians, bands, producers, videographers and visual artists, they quickly began to put their own events on, releasing music regularly as well as videos on their YouTube channel. Over the last few years, their Chill Withers parties at Assembly House as well as their Tight Lines Jam at Hyde Park Book Club and the annual Salemango Festival at the same venue have become the stuff of legends. Most of the bands in Leeds today from the young jazz rebels end of the scene are either Tight Lines bands, Tight Lines affiliated or started with them. These include Skwid Ink, The Mabgate Organ Trio, Fergus Quill's Imaginary Big Band, Hev, Hey Fish, Têtes de Pois, Necktr, Mamilah, Jasmine, Slow Loris, Garde Dog, MDVLNS....an endless list of great young musical talent that just keeps growing. For this show, two of their bands are featured as they take over the session.
Skwid Ink are one of the original Tight Lines bands featuring some of the founder members of the collective. Part Zappa-esque comedic stage shows, part full-on punk energy, part psyche jazz meltdown, completely jaw dropping jazz soloists, this band typifies everything Tight Lines stands for. Quality music that breaks the norm, a collective spirit and a huge dose of humour. Their live shows in Leeds became a proper mosh pit jazz rave and they've taken that well beyond the city's boundaries including Manchester Jazz Festival, Liverpool, Sheffield, York, London's Jazz Cafe and Gilles Peterson's debut We Out Here Festival. They've had music featured on the 2018 Leeds nu-jazz compilation "To Be Here Now" (HPBC Records), which was featured on the Gilles Peterson UK jazz special (he played their track). Their debut EP "The Skids Are Here" dropped the same year and they also have a track on the first Tight Lines compilation EP. In 2020, like so many bands, they were frozen out of gigs by the corona virus so it's great to have them back playing live again.
Skwid Ink are : Will Lakin (guitar) - Fergus Quill (double bass) - George MacDonald (keys) - George Hall (drums)
The Mabgate Organ Trio evolved from the bigger Mabgate Swingers Party, another band that formed when it's members were at Leeds College of Music. Whereas the Swingers play vintage swing jazz, The Mabgate Organ Trio go for a darker, more intense music that encompasses Ethio jazz, cinematic vibes, psyche funk and headnodding beats. Formed a couple of years ago to play organ jazz covers around the jazz dives and speakeasies of Leeds, when covid shut down the music scene post 23rd March 2020, they withdrew to their studio basement to write original music and jam. After a few months, they produced a whole album which they named "From The Mabgate Basement", and it was released in December 2020 on Tight Lines Records. A single called "Fives" dropped in November and had a lot of good airplay UK wide, including getting B Playlisted on Jazz FM at the end of that month. They've also not played live for almost a year so it's great to have them opening this Tight Lines Takeover.
The Mabgate Organ Trio are : Nico Widdowson (organ, keys) - Ed Allen (guitar, production) - Richard Moulton (drums)
This concert will fully comply with existing government COVID-19 safety regulations. You can check these at the venue's website.
Tickets £32 per table
Table bookings only : up to 4 persons per table - all tickets must be pre-booked.

***if government COVID-19 rules change regarding public places and venues are closed again, this event will be postponed and rescheduled to a later date and all tickets sold will be valid for a new date***