Jazzland Sessions / Young Jazz Rebels
Brudenell Social Club, Leeds.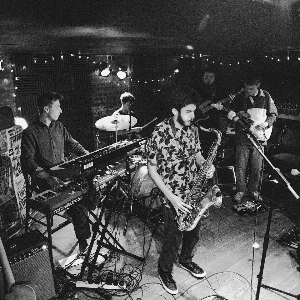 More information about Jazzland Sessions / Young Jazz Rebels tickets
Since Jazzland Sessions launched in May 2021 as socially distanced/seated shows at Brudenell, hosted by Leeds' original jazz daddy DJ Lubi Jovanovic (est 1982), they've been a huge success and really made an impact on the city's jazz scene. Showcasing a mix of new emerging young artists alongside the city's jazz elders, and also original music shows interspersed with legacy nights celebrating the legends, Jazzland Sessions are definitely here to stay. Tonight, it's the last one of 2021 before a winter break so out goes the seating - it's "jazz rave" time again. A showcase of the young jazz rebels of Leeds, the next generation coming through from Leeds Conservatoire and the buzzing Leeds DIY underground jazz scene, and future jazz stars in the UK jazz scene.
2/22 (two-twenty-two) are one of the hottest jazz ensembles to emerge from the rehearsal rooms of Leeds Conservatoire in the last 18 months. Like minded souls coming together from a love of UK/US contemporary jazz fusion and influenced by the likes of Yussef Kamaal/Butcher Brown/Ezra Collective/Alfa Mist, 2/22 blend jazz with a multitude of genres, consistently keeping energy, emotion and infectious rhythm at the forefront. This is definitely "jazz in the present tense". They began in their second year at the music conservatoire but their progress was temporarily stalled as the pandemic shut down the music scene and gigs disappeared. Since live music came back this summer, they've played sold out events at Hyde Park Book Club and Smokestack as well as a packed Leeds Conservatoire freshers event. Now they step up with their debut single and their first ever show (and headline show too) at the legendary Brudenell Social Club. Giant steps for sure.
2/22 are : Taye George - drums, Ruben Maric - keys, Theo Wells-George - electric bass guitar, Conor Thomas - electric guitar, Gustavo Andrade - tenor sax, Emyr Penry Dance - trumpet
Mangorata are a 6-piece jazz fusion collective based in Leeds. They combine original tunes and improvisation, creating high energy with lively rhythms inspired by legends like Herbie Hancock, Chick Corea, Wayne Shorter, and more recent artists such as Nubiyan Twist and Nubya Garcia. The band met whilst studying at Leeds Conservatoire and have combined their love for jazz, funk and Latin music to create a vibrant dancefloor friendly sound that can rock clubs and festivals and not just the standard jazz club style venues. They hit the road running in September with a debut single "Bad Apple" from their debut EP, which will be released later this year on all mainstream music platforms, and played packed shows at some of Leeds' best known venues (The Wardrobe, Hyde Park Book Club, 7 Arts).
Mangorata are : Miles Pillinger - drums, Olivia Cuttill - trumpet, James Absalom - tenor sax, Liam Mason - keys, JJ Petrie - percussion, Chris Williams- bass
Opening up the night is a rising guitar star on the Leeds jazz scene - Hyo Jung - who recently graduated from Leeds Conservatoire with a first in Jazz Guitar and performance. She is a South Korean guitarist who has various musical loves from across the spectrum that include jazz, rock, funk and fusion, producing unique playing styles and tones. With the huge interest in jazz-rock fusion, her tone is heavily inspired by Mike Stern, one time Miles Davis band member. At the same time, her influences included musically polished musicians such as Gilad Hekselman, Mike Moreno, Kurt Rosenwinkel and Adam Rogers, who have inspired her arrangements/original material. She has performed at many venues in Leeds including LS6 Cafe, Seven Arts, Hifi Club, Hyde Park Book Club and previously at the Brudenell for a Jazzland Sessions show with her trio warming up for the Ben Haskins Quartet.
Hyo Jung Trio are : Hyo Jung - guitar, Louis Berthoud - drums, Fergus Leach - electric bass
***this is the last Jazzland Sessions show of 2021 - thanks to everyone who has supported the gigs since 21st May - we'll be back in the new year for more great live jazz shows for 2022***