Jembaa Groove + Ubunye + DJ Ras Myles (Afroshake)
Brudenell Social Club, Leeds.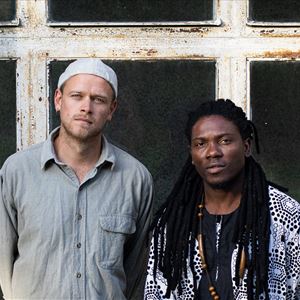 14+ only. 14s to 15s must be accompanied by an adult. No refunds will be given for incorrectly booked tickets.
More information about Jembaa Groove + Ubunye + DJ Ras Myles (Afroshake) tickets
Leeds longtime global beats/world music promoter DJ Lubi has hosted some brilliant African music gigs at the Brudenell over the last few years including KOG, London Afrobeat Collective, ONIPA and Ghanian band Santrofi. Next up comes a big African music double bill at the venue on Sunday 9th October featuring highlife/afrobeat band Jembaa Groove from Berlin and Leeds afrojazz/afrosoul band Ubunye. And keeping things moving nicely between sets is Kenyan DJ Ras Myles (Afroshake). Definitely one of the big African music highlights in Leeds this autumn.
Jembaa Groove is a Berlin based afrofusion/highlife funk group founded in late 2020 by Yannick Nolting (bass, composer, producer) and Eric Owusu (vocals, percussion, songwriter). Speaking the same musical language, the two musical nomads quickly realised the fruitful outcome of their musical encounter. Digging deep into both their backgrounds and musical identities, they came up with a new and yet authentic vibe ready to be spread across the world. After seeking for the right companions for the upcoming journey and stumbling on a few of Berlin's finest musicians, they finally formed Jembaa Groove, a 7-piece band that combines jazzy sounds from Berlin's uprising underground music scene with traditional West African sounds from Ghana and Mali, such as Highlife, Adowa and Wassoulou. The music of Jembaa Groove is as much influenced by the soulful rhythms and baritone chords of 1970s black America and contemporary artists like Lee Fields and Ikebe Shakedown as it is by highlife artists such as Ebo Taylor and Pat Thomas, with whom Eric has been touring and recording for many years.
Jembaa Groove band members come from Ghana, Benin, Germany, Portugal and Israel. Band leader/composer/arranger/bass player Yannick Nolting has lived and played music in Portugal, Brazil and Mali before settling in Berlin, becoming an active
member in the city's buzzing live music scene and forming the band. Co-band leader/singer/percussionist Eric Owusu is from Ghana and has played in the bands of Ghanian music legends Ebo Taylor and Pat Thomas. Singer/guitarist
Tunde Alibaba is from Benin and has worked with renowned artists such as Lionel Loueke, Alessia Cara, and Anewal. Brass section players
Meravi Goldman (French horn) and Goncalo Mortagua (tenor sax) are much in demand in Berlin's
classical and jazz/world music/pop scenes as is jazz drummer
Nir Tom Sabag. Finally, keyboard player
Moses Yoofee Vester has become one of the most prominent musicians in Berlin at his young age and is also the bandleader for Wanubale and Footprints Project.

Garnering support from the media world like KEXP, KCRW, Worldwide FM, Rinse FM, WDR Cosmo and enough stations round the world off the back of their 'Bassa Bassa' track, Jembaa Groove are causing a storm with their hybrid West African meets US soul & jazz sound. Their debut album 'Susuma' was released via Agogo Records in March 2022 and was
followed up by an extensive release tour throughout mainland Europe over the summer. Now they land in the UK for the very first time for an exclusive BBC 6 Music session plus a limited mini-tour including this debut Leeds show.

Their debut album "Susuma" came out in spring 2022 on Agogo Records. Here's a few comments about it.
"The Jembaa Groove is so good!"
- Coco Maria (Worldwide
FM)
"A great sound. That really is a proper soulful hybrid" - Robert Elms (BBC Radio London)
"Legendary stuff...sounding beautiful!" Cerys Matthews (BBC 6 Music)
Support comes from Leeds' very own afrofusion stars Ubuneye who bring together the sounds of contemporary jazz and soul
with Afropop and South African
Isigqi-traditional
Zul
u music.
The
seven piece ensemble features the instrumental talents of Leeds based musicians David Evans (keys), Kenny Higgins (electric bass), Alex Wibrew (drums) and Nik Rutherford (guitar) and is fronted by three vocalists from the Kwa Zulu Natal region of South Africa - Xolani Mbathe, Thandanani Gumede and Nokuthula Zondi.
Originally formed at a Leeds music festival Dave Evans was curating and a project where he and Xolani Mbathe collaborated on, the success of the event resulted in them recruiting a full band and Ubunye was born. The current band are Xolani Mbathe – vocals, vocal percussion, Thandanani Gumede – vocals, Nokuthula Zondi – vocals, David Evans – keyboards, synths, Kenny Higgins – bass guitar, synths, Alex Wibrew – drums, percussion and Nik Rutherford – guitar
They quickly built up a local following with their exciting live shows around Leeds before taking the Ubunye sound and message - love, unity, community - beyond the city's limits. They have featured at high profile UK jazz festivals like London Jazz Festival, Manchester Jazz Festival, Marsden Jazz` Festival and Lancaster Jazz Festival, performed a sell out show at the renowned Pizza Express Jazz Club in Soho, London and taken their Ubunye live show to gigs in Norfolk, Clitheroe, Middlesbourough and many more great towns and cities across the country. It's been a while since they played Brudenell so it's great to have them back.
Prior to the great music shutdown of 2020 caused by the covid pandemic, they had released singles and EP but their debut album was delayed for a while. Finally in April 2022, their self-titled album "Ubunye" came out on 33 Jazz Records and had a great critical response with radio play on BBC 6 Music, Jazz FM, Worldwide FM, BBC Radio London, BBC Introducing, Solar Radio. Check it out at their Bandcamp page and on iTunes and Spotify.


Guest DJ keeping the night
moving nicely before and between live acts is Ras Myles from the Afroshake club session. The young Anglo-Kenyan DJ has been rocking parties across the city for the last 15 months and has already warmed up at Brudenell for previous
DJ Lubi African music shows by KOG, ONIPA and Santrofi. A great DJ who can play the full spectrum of Pan-African music past, present and future.