Magnum
Brudenell Social Club, Leeds.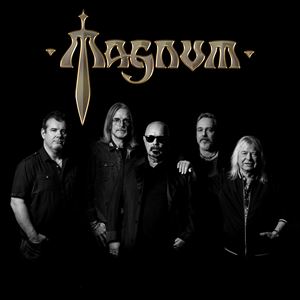 14+ only. 14s to 15s must be accompanied by an adult. No refunds will be given for incorrectly booked tickets.
More information about Magnum tickets
It's a sign of definite quality when a band can look back at a career which started as early as 1972 (!) and are still capable of thoroughly awing their fans with every new album. Magnum deliver this kind of quality on a regular basis and are set to prove their outstanding position once again with their latest studio offering 'The Monster Roars'. Even after difficult months marked by pandemic-related concert cancellations, contact restrictions and uncertain perspectives for the whole music industry, the English rock act have succeeded in creating a vibrant, homogeneous work that impresses its listeners from the first to the last note and includes a number of surprises.

'The Monster Roars' kicks off with a real bang: opening with the title track, Magnum make it unmistakably clear that the group's current line-up consisting of Bob Catley (vocals), Tony Clarkin (guitar), Rick Benton (keyboards), Dennis Ward (bass) and Lee Morris (drums) is bursting with enthusiasm. Especially the signing of American bassist Dennis Ward (ex-Pink Cream 69, Unisonic, Place Vendome) has proved to be an absolute stroke of luck. "Unfortunately, we haven't been able to play live with Dennis yet as all concerts had to be cancelled or postponed due to the lockdown. But we've already rehearsed intensively with him and were delighted to discover that he not only plays a first-rate bass but also provides fantastic backing vocals," explains Tony Clarkin and adds: "Dennis has catapulted the band to another level in a number of ways. We`re looking forward to our first live shows with him and are certain that our fans will be as excited about Dennis as we are."

The title track, however, is only the prelude to a recording that features solid rock numbers such as 'Remember', 'The Present Not The Past', 'The Day After The Night Before' and 'That Freedom Word' as well as atmospheric ballad track 'Walk The Silent Hours' and midtempo 'Can't Buy Yourself Heaven', with the anthemic 'All You Believe In' bringing to mind Queen and 'No Steppin' Stones' sparkling with an amazing brass section. Magnum's lyrics are also (almost) all about the present, as song titles such as 'Your Blood Is Violence', 'Come Holy Men' or 'Can`t Buy Yourself Heaven' prove. Clarkin: "This album is more about social subjects, including political issues." No doubt about it: 'The Monster Roars' is a well-tempered mixture of typical Magnum trademarks, contemporary influences and trailblazing approaches which are guaranteed to win the band lots of new fans.

'The Monster Roars' will be available from 14 January 2022 on Steamhammer/SPV as a CD DigiPak, 2-LP gatefold, limited box set and – exclusively from the Steamhammer online shop – CD/LP and T-shirt bundle. The first single (including lyric video) 'I Won't Let You Down' will be released on 12 November 2021. The second single 'No Steppin' Stones', also supported by a lyric video, is scheduled to follow five weeks later, on 17 December 2021. The cover artwork, which is rather unusual for Magnum, was photographed by Rob Barrow, brother of former Magnum bassist Al Barrow, and is continued in the conceptual booklet.

And last but not least: In addition to the twelve songs on the regular album, Magnum offer three bonus tracks as part of a limited box set, including a new version of 'Days Of No Trust', the opener of their 1988 album classic 'Wings Of Heaven', and new remastered version of 'Sweets For My Sweet', their very first single release from 1975, as well as a previously unreleased track from the same era. So there`s lots of exciting stuff to be discovered on 'The Monster Roars'. As we've come to expect from this exceptionally creative band!


Magnum are an English hard rock band formed in Birmingham by Tony Clarkin (guitar, songwriter) and Bob Catley (vocals) in order to appear as the resident band at the Rum Runner nightclub in the city. Magnum have undergone several changes in personnel over the years; however, the core of Catley and Clarkin remain.
Magnum's most significant early success was 'Chase the Dragon' in 1982, which reached number 17 in the UK Albums Chart. It included several songs that would become mainstays of the band's live set, notably "Soldier of the Line", "Sacred Hour" and "The Spirit". On a Storyteller's Night gave the band its breakthrough in Europe, and achieved a Gold certification in the United Kingdom.
The band's 1986 album Vigilante represented a further move towards the mainstream before the band achieved their commercial peak in 1988 when they entered the UK Top Ten for the first time with the album Wings of Heaven, which reached number five and featured three Top 40 singles, "Days of No Trust", "Start Talking Love" and "It Must Have Been Love". It was followed by Goodnight L.A., which was produced by Keith Olsen and reached number nine in the UK Album Chart in 1990. It produced another Top 40 single for the band, "Rockin' Chair".
In 1995, Clarkin announced Magnum's split; however, Clarkin and Catley continued working together as before, now under the name Hard Rain, until Catley left in 1999. Magnum reformed in 2001 and has enjoyed late-career commercial success. Their most recent album, The Serpent Rings, was released in January 2020.