Matthew Bourne / Keeley Forsyth - Piano Day 2020
Brudenell Social Club, Leeds.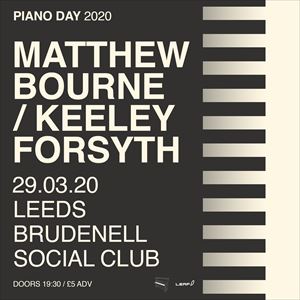 More information about Matthew Bourne / Keeley Forsyth - Piano Day 2020 tickets
As part of our Piano Day celebrations, Brudenell Piano Sessions are proud to collaborate with The Leaf Label to present an evening of outstanding, compelling music released on the label in recent years.
We are delighted to welcome Matthew Bourne to perform music from his incredible Isotach album, where skeletal piano motifs, an aching use of space and sparing arrangements are deployed to devastating effect. With a reputation as a fearlessly unpredictable pianist and composer, Matthew Bourne is a passionate explorer of sound, possessed of a burning desire to make music on anything old, broken or infirm. In performing Isotach, he will be joined by violist Aby Vulliamy and cellist Mick Bardon.
A second performance of the evening will see Keeley Forsyth perform material from her stunning, acclaimed debut album Debris. Featuring songs that showcase her elemental voice and an outpouring of candid, haunting lyrics detailing the seismic ruptures which take place behind closed doors, Debris has been received with great critical acclaim by the likes of Mary Anne Hobbs, Stuart Maconie and Maxine Peake, with notable features in the Guardian and Q magazine. Alongside sparse arrangements by Matthew Bourne and producer Sam Hobbs, Forsyth's music is centred around a singular, emotionally raw and magnetic vocal delivery, and she will be joined by Bourne and his ensemble, augmented by guitarist Mark Creswell, to present a captivating second half to close the show.
Join us at the Brudenell Social Club for a wonderful evening of enthralling and fascinating music gathered around the piano, in the spirit of collaboration.