SALSA KINGS 2 ft. DJs Lubi, Fabio Bahia, Dr Salsa
The Hi-Fi Club, Leeds.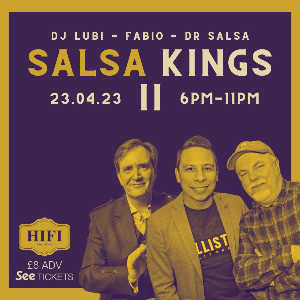 More information about SALSA KINGS 2 ft. DJs Lubi, Fabio Bahia, Dr Salsa tickets
After 3 years since they last DJ'd together, Leeds
salsa
music legends Lubi Jovanovic (DJ Lubi), Fabio Bahia and George Donoghue (Dr
Salsa) reunited for a one off
salsa
party called "Salsa
Kings" at the Hifi Club in Leeds
in March. Ove 150 dancers came from across the north of England and a great time was had by all.
So, they are doing it again - same DJs (Lubi,
Fabio Bahia,
Salsa), same venue (Hifi
Club Leeds), same timings (6-11pm), same format (no dance classes or live band just dancing), same ticket price (£8 advance, more on the door), same great music
policy (salsa all styles plus some Cuban and Dominican music).
All three DJs are already well established in the UK
salsa
scene even before they launched Calle Ocho Leeds and their combined DJ experience comes to over 100 years. Here's a quick summary of their careers :
DJ Lubi is the UK
salsa
don who started the
salsa
scene up north in Yorkshire back in 1986 with his Club Afro Latino session in Leeds. In the 80s and 90s, he DJ'd across the north and down to London and his latin jazz and
salsa
bands spread the
salsa
gospel across the UK with their live sets. His weekly Leeds
salsa/Latin party "Casa Latina" from 1995-2002, drew dancers from across the north and was the template for all
salsa
nights that followed. In the early 2000s, he began curating
salsa/Latin music
compilations for many labels (including Fania Records), and from this, he was invited to DJ at festivals and clubs across the EU and beyond (Los Angeles, Gran Canaria, Singapore, Turkey). He has been promoting live
salsa/Cuban music since the late 1980s and still does so today. Since the pandemic repening, he has stepped back from the
salsa
scene as a promoter though
he still DJs guest slots across the north when invited.
Brazilian Fabio Bahia started DJing in the mid 1990s at a residency in Manchester and then he joined Lubi as co-resident DJ at the legendary "Casa Latina" session in Leeds. In 2002, after "Casa Latina" folded, Fabio and Lubi had a long weekly resident party called "Salsoul" in Leeds which featured 2 rooms -
salsa/reggaeton/Latin party sounds in one, hip-hop/r'n'b in the other. Fabio also had his own resident
nights in Leeds and they co-promoted all the best live
salsa
gigs in Leeds from 2006 onwards to 2019 including La Excelencia (New York), Asere (Cuba), Tromboranga (Spain) and La Maxima 79 (Italy). Fabio is also the number one northern Brazilian music DJ and promoter and has been for over two decades.

Scottish DJ/danceteacher/promoter George Donoghue (Dr
Salsa), was involved in the Scottish
salsa
scene from the mid-1990s. He began as a dancer then became a dance teacher and DJ before hosting the best parties up north. His long standing "Havana" sessions in Glasgow are legendary. He was involved in the Scottish
Salsa
Congress from it's start in 2009 to 2019 and was a regular visitor to Lubi's Casa Latina club in Leeds in the late 90s to catch the visiting New York
salsa
bands. He and Lubi began working together in 2000 when Lubi first DJ'd a Dr
Salsa
event. In 2008, George moved to Leeds for work and so linked up with Lubi and Fabio on various events.
In 2010, they launched "Calle Ocho" at the Faversham in Leeds and it was an immediate success. It ran for 10 years until the final party in January
2020. Then covid shutdown the world, all 2020 Calle Ocho parties were cancelled and when the full reopening came in July 2021, the venue didn't want the session back. All 3 DJs were busy with other things, both business and personal, and so Calle Ocho finished for good. The last time they all DJ'd together was at the end of January 2020 at the last ever Calle Ocho session.
After a rocking
reunion in March 2023, The
Salsa
Kings
are back......