The Last Internationale
Brudenell Social Club, Leeds.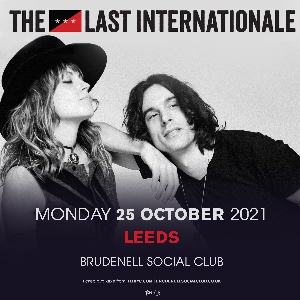 More information about The Last Internationale tickets
An activist rock band whose music fuses the powerful storytelling and working-class concerns of classic folk and blues with the rabble-rousing spirit of punk rock, the Last Internationale were formed in New York City by singer Delila Paz and guitarist Edgey Pires. Not afraid to make their beliefs crystal clear (often singing about issues concerning Native American rights, economic justice, and fighting the growing tide of apathy in America), the group's 2009 debut album, simply called The Last Internationale and released through the independent Manifesta Records label, included tough-minded polemics like "Free Troy Davis," "Ballad of a Yuppie Liberal," and "Winter Soldier," as well as covers of "Workers of the World Unite" and "Where Have All the Flowers Gone" (the latter given an updated rewrite). The duo also appeared frequently at benefits and political actions, determined to bring about practical change rather than simply act as cheerleaders. In 2011, the Last Internationale issued their second album through Manifesta, Choose Your Killer, and began attracting a larger audience for their strong and provocative music. 2013 brought a pair of digital EPs that were released through the group's Bandcamp page, a set dominated by blues and folk covers titled New York, I Do Mind Dying, and a collection of early demos. That same year, the group signed a major-label recording deal with Epic Records, and began blocking out plans for their third album, with Brendan O'Brien producing and Tom Morello (former Rage Against the Machine guitarist and a fan of the group) acting as executive producer. When Paz and Pires mentioned to Morello that they were looking for a drummer, Morello contacted his former RATM bandmate Brad Wilk, who liked the group's music enough that he signed on as a full member of the band. The tracks "Killing Fields" and "Life, Liberty, and the Pursuit of Indian Blood" were released as singles in the spring of 2014, and the Last Internationale's first full-length for Epic, We Will Reign, was released in August 2014.