Trampolene
Brudenell Social Club, Leeds.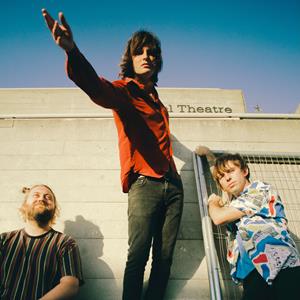 More information about Trampolene tickets
TRAMPOLENE have released three albums - 'Swansea To Hornsey' (2017); 'Pick A Pocket or Two' (2018); and 'Love No Less Than A Queen' (2021) which featured in the Top 5 Independent album chart, Official Independent Albums Breakers Chart No. 1 and Official Album Sales Chart No. 20.

TRAMPOLENE personnel: Jack Jones - vocals/guitar, Wayne Thomas - bass/vocals and Mr Williams - drums/Keyboards/Violin/vocals.

Jack Jones, lead singer/guitarist of TRAMPOLENE is a spoken word poet, singer and songwriter. He moonlights as lead guitarist in Peter Doherty's backing band The Puta Madres. BBC Radio produced a documentary portrait of Jack Jones & TRAMPOLENE, entitled 'Another Swansea Poet' in 2019. Jack writes about everyday life, his upbringing, and offers his own social commentary on the world, all delivered with a gentle Swansea lilt. Wayne Thomas works in a pub in North London. Mr Williams teaches piano in Swansea.