Ubunye + Sueli Gil + Chapel FM Jazz Collective
Brudenell Social Club, Leeds.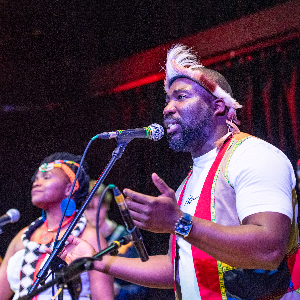 14+ only. 14s to 15s must be accompanied by an adult. No refunds will be given for incorrectly booked tickets.
More information about Ubunye + Sueli Gil + Chapel FM Jazz Collective tickets
Leeds world music/jazz promoter DJ Lubi finishes off a big year at Brudenell Social Club with a final live show and global beats Christmas party bringing together Leeds bands and musicians playing music of Africa and the African diaspora (Brazilian beats, jazz, soul).
Headliners are Leeds' very own afrofusion stars Ubuneye who fuse the sounds of contemporary jazz and soul with Afropop and South African Isigqi-traditional Zulu music. "Ubunye" translates as "Unity" in the Zulu language, and the seven piece ensemble brings together the instrumental talents of top Leeds based jazz musicians with three vocalists from the KwaZulu Natal region of South Africa.
The line-up is :
David Evans (keys/musical director), Sam Dutton Taylor (electric bass), Steve "Chief" Hanley (drums), Nik Svarc (guitar), Xolani Mbathe (vocals), Rosie Douglas (vocals), Nokuthula Zondi (vocals). For this special Christmas party, Ubunye becomes a 10 piece ensemble with the addition of a brass section and a percussionist. The horns are Emma Johnson (tenor sax - Emma Johnson's Gravy Boat), and Aaron Wood (trumpet - Secret Night Gang), and on percussion is Manchester Latin music pioneer percussionist and drummer Dave Hassle. This is the first time Leeds will be seeing this bigger ensemble.
Originally formed at a Leeds music festival Dave Evans was curating and a project where he and Xolani Mbathe collaborated on, the success of the event resulted in them recruiting a full band and Ubunye was born. They quickly built up a local following with their exciting live shows around Leeds before taking the Ubunye sound and message - love, unity, community - beyond the city's limits. They have featured at high profile UK jazz festivals like London Jazz Festival, Manchester Jazz Festival, Marsden Jazz Festival, Newcastle Jazz Festival and Lancaster Jazz Festival, performed a sell out show at the renowned Pizza Express Jazz Club in Soho, London and taken their Ubunye live show to gigs in Norfolk, Clitheroe, Middlesbrough, Sheffield, Oxford, Luton and many more great towns and cities across the country.
Prior to the great music shutdown of 2020 caused by the covid pandemic, they had released singles and an EP but their debut album was delayed for a while. Finally in April 2022, their self-titled album "Ubunye" came out on 33 Jazz Records and had a great critical response with radio play on BBC 6 Music, Jazz FM, Worldwide FM, BBC Radio London, BBC Introducing, Solar Radio. In suymmer 2023, they were voted "Best Jazz Ensemble Of 2023" in the annual UK Parliamentary Jazz Awards. It's been a while since they last played Brudenell (supporting Berlin's Jembaa Groove back in summer 2022), so it's great to have them back.
Support comes from Suéli Gil, the Leeds based Portuguese singer who loves Brazilian music and has been part of the Leeds Brazilian music scene for the last 6 years.. She started singing in the church choir as a school child and then with bands at university. In 2012 she released her first EP of original songs titled "Girassol", produced by top Brazilian guitarist/producer Tuniko Goulart. She moved to Leeds in 2013 and quickly started playing duo gigs (vocals/guitarist) in Brazilian restaurants around the north of England. In 2015, the duo became a quintet performing at venues like 7 Arts and The Wardrobe and appearing at big festivals like Brazilica (Liverpool) and Vamos Festival (Leeds). Suéli's music is a fusion of Brazilian bossa/funky samba/MBP and Angolan/Cape Verdean sounds of semba (her parents are Angolan).
In early 2020, she and Tim Cook (TC & The Groove Family) released a samba house single "Toca Samba" but then she had to return to Portugal when the pandemic hit the UK. She wouldn't return to Leeds until early 2022 and quickly resumed singing and performing, initially as guest vocalist with Gustavo Andrade's Samba Jazz Allstars. In summer 2023, she put together a new Suéli Gil band who made their debut at Leeds Jazz Festival in May at the open air Welcome To Leeds stage. They recently played a sold out show at Hyde Park Book Club Leeds and were last at Brudenell in August 2023 supporting Chilean afrobeat band Newen Afrobeat. With musicians from Plantfood, Carioca Soul, Tempo Feliz and Os Caras in the band, you know this is a quality line-up headed by a great singer. Get down early to catch their set. You won't be disappointed.
Because it's a Christmas party, there will be three bands at this gig. Openers are the Chapel FM Jazz Collective, a community jazz/world music band under the direction of Ubunye's Dave Edwards. He initially started the band back in 2003 as the Garforth Jazz Rock Band and in recent year's, the ensemble has relocated to Leeds and a new home, Chapel FM community radio station. It draws musicians from across the generations and especially welcomes young musicians into the ensemble. rehearsing weekly and performing the music of Fela Kuti, Miles Davis and Weather report, they play regularly around Leeds. Just the right band to get the party started.
DJ Lubi will be hosting and DJing music between live sets, mixing up African music, Brazilian beats, Latin music vibes and dancefloor jazz, just as he's been doing for over 4 decades in Leeds and beyond. It's his final Brudenell show of 2023 so come down for a big night of global beats and world jazz jive.