Yorkshire Psychobilly All-Dayer - KING KURT
Brudenell Social Club, Leeds.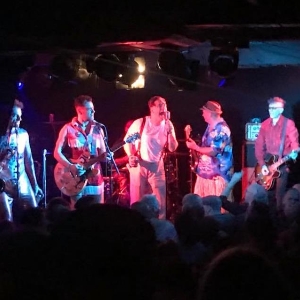 14+ only. 14s to 15s must be accompanied by an adult. No refunds will be given for incorrectly booked tickets.
More information about Yorkshire Psychobilly All-Dayer - KING KURT tickets
KING KURT

Although psychobilly pranksters King Kurt are best remembered for "Destination Zululand," the rambunctious smash with which they stormed the U.K. chart in 1984, to recall them purely as one-hit wonders is to decry other achievements....But even that only begins to tell the band's story, for it wasn't on cold, impersonal wax that King Kurt were at their blistering, mystifying best. It was in concert, where gigs became tribal gatherings and songs became rockabilly psycho chants.
The story begins in early 1981, with the band -- fronted by the irrepressible Smeg, and completed by guitarist Thwack, saxophonist Maggot, and drummer Rory -- rising out of the same twisted garage underground that was home to an entire army of post-Cramps psychobilly revivalists.
THEE SCARECROWS AKA
Nick Garrard says of the latest album...
"These new recordings had me pondering, what is inside a scarecrow? Well, these surly have a brain. Nothing rum about this! Strong songs with hypnotic musical arrangements. Buzz, fuzz, a pummelling racket, a demonic wailing harp, gruff vocals and lashings of Louisiana Hoo-Haw hot sauce. The choice of unusual instruments and tip-top reference points will give you crows listening, as you smoke your Havana cigars, an unusual and pleasurable aural experience. Suck it all in, let it fester a while, then will come the contorted gormless grin as you exhale.
If you're going to see them live and have to cross the corn field after dark, stick to the path and beware the moon." https://theescarecrowsaka.bandcamp.com/
THE BLUE CARPET BAND
Come on like Little Richard fronting The Stooges, its The Cramps playing with k https://thebluecarpetband.bandcamp.com
THE RADIACS Established in 1987 & back on the Psychobilly scene...still Goin' Strong! https://www.facebook.com/TheRadiacsUK
PUSSYCAT AND THE DIRTY JOHNSONS , the grind and grit of psycho tinted punk rock seen through feline eyes. https://pussycatandthedirtyjohnsons.bandcamp.com/
LOS COYOTE MEN have been recording and touring for over 20 years, gaining an international cult following for their trashy garage-punk sound, and their iconic Mexican wrestling masks! If you dig bands like The Cramps, The Sonics and The Trashmen, you will dig Los Coyote Men. In their own words….https://www.facebook.com/Los-Coyote-Men
SNAKERATTLERS is a two-piece band, which serves as a creative output for married couple Dan and Naomi. It's a hellbound voyage of deathpunk and fragments of the oldest, dustiest rockabilly. Those two genres combine with the couple's interest in the dark side of life, to make the band's own frenzied and furious take on music, known as "rattlerock". http://www.snakerattlers.com/